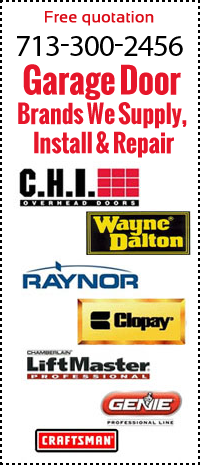 How safe do you feel when your kids play around the moving garage door every Sunday morning? How certain are you about its condition? This is not a trivial matter, but on the other hand, you don't have to become a technician. After all, your everyday activities are time consuming and you can't schedule to do technical repairs on your own in between. And you shouldn't either because garage doors are too complicated to be handled by untrained people. At the same time, you cannot work properly when you think about such problems at home. Houston may offer a lot of things, but expects too much back as well. It's one of the most vivid cities in the United States; and actually, it's one of the largest and economically strongest, too. Major energy and oil corporations, medical institutions and a great range of various service, commercial and shipping businesses constitute the base of its great economy. It boasts for its diverse cultural events, artistic character, amazing architectural structure, infrastructures and public service.
Among this paradise of progress and vividness stands our company, which emphasizes on garage door repairs. We are the expert technicians you can turn to, when you are facing residential or commercial garage door problems. Garage Door Repair Houston may engage on regular maintenance services or supply you with a new garage door, replacement component parts and accessories. Preventive measures are an excellent way of avoiding sudden unpleasant troubles, but you can never be sure with mechanics. Keep our phone number in handy because you may never know when your door will be jammed or the system will fail. An unimportant factor such as dead batteries in your remote, could turn your world ups and down. We can always stand by your side since you can call us with an emergency at any time or day. Why should you spoil a holiday or be late at work? We can solve all your garage door problems in no time.
Ensures garage door is in perfect condition
In fact, our vans are always filled with replacement parts and the proper equipment. The minute we will get your call, our technicians will be heading towards your place. They will examine the door and the parts you suspect malfunction. They will engage on troubleshooting and repair the broken opener or the springs. If they are excessively damaged they will replace them. They can fix the panel, the door off tracks and the snapped cables. They will install new extension springs or hinges. They will make sure that your garage door is in perfect condition and works properly.
Small domestic accidents or strong winds may provoke small garage door problems. And small door problems can block the good performance of the entire system. A small rock, for example, that has fallen in the tracks may have bent them or put the door of tracks. As a consequence, your door would not operate properly or not at all. Why should you waste your time with technical issues? Garage Door Repair Houston is an expert company on all garage door repairs, and hence, can take the problems off your back and provide a well maintained door that will ensure your convenience and security.